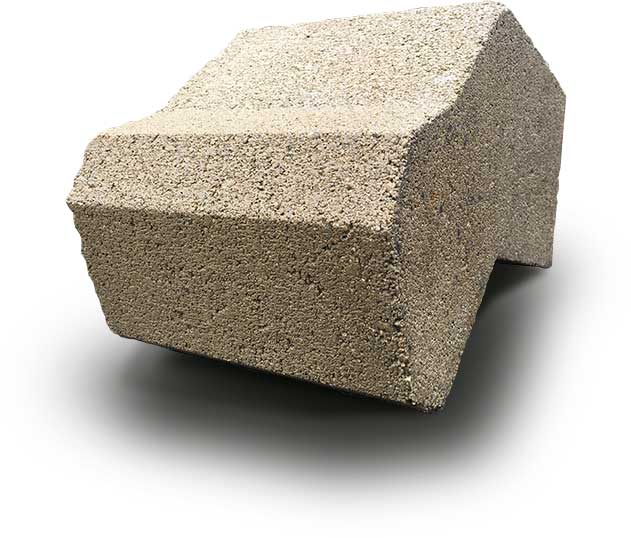 We make it our business to simplify and reduce the cost of your erosion prevention project. Through our unique precast concrete block units, stacked with a weight locking system, vertically and horizontally, it is like no other block.
SlopeBlock wall-type structures date back to ancient pyramid times as gravity structures. Gerhard Hagenah, a German engineer, designed a concrete block for earth retaining walls and called it Floorwand. This block was successfully introduced in Europe, Canada, and the U.S. In the U.S. the unit was first called Earthstone (as well as Terra stone and SlopeBlock) and this was before any other type of segmental block shapes were used.
SlopeBlock delivers quality concrete blocks for slope stabilization, highway and roadside support, gravity hillside retaining, erosion control, channels, noise abatement barriers, garden walls, and retention detention basins. With retaining walls well above 33' in height, SlopeBlock has worked with major residential and commercial developers, government customers such as CDOT and PDOT, airports, US Army Corps of Engineers, cities, residential owners, and more.
Our Company was founded on the highest principles of quality engineering to meet the highest standards for tooling in manufacturing. We have taken care to make sure our moulds are then supplied to concrete block manufacturing plants capable of producing quality blocks.
There are 3 reports with international conference Building Officials (ICBO and now ICC) including the City of Los Angeles Research Report under Earthstone, Terrastone, and SlopeBlock that gave guidelines to code officials from 1980 until 2015 for approvals for our unique product. Currently, ICC code building officials have no requirements for our concrete block usage as erosion control application under the 2015 International Building code there are no acceptance criteria. In 2015 we opted to cancel our ES Legacy report ER5863 (copy report under specs on our website) and apply it as a guideline to our block manufacturing and installation. We have added our own recommendations for its use with various options and each project should follow the ES Legacy Report with additional recommendations for erosion control walls.
Slopeblock wall system installed at an angle of inclination equal to or greater than 27 degrees from vertical will function as cladding or erosion control with no height limitation with proven analysis and practical success.